Course Objectives
Each of our courses comprises core laser therapy content covering laser physics, physiological effects, key parameters, generic protocols and safe use. They all offer opportunities for hands-on equipment familiarisation, and include relevant research references and case examples.
The primary aim of the courses is to equip the health care professional with the knowledge and confidence to be able to successfully incorporate laser therapy into their practice, whether they are completely new to laser therapy or in need of a refresher course.
We run open courses and tailored in-house courses so if you are interested in arranging a course in your area or through your organisation, do get in touch.
We always seek anonymous attendee feedback on each of our courses, and although we are always looking for ways to improve, we are pleased to report that they have been consistently well received with excellent evaluation figures - call us for more details.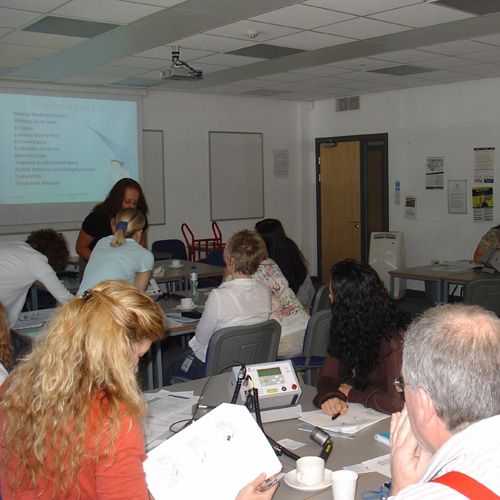 Intro to Canine Laser Acupuncture
Medical Laser Therapy (Multi-Discipline)
Medical Laser Therapy (Multi-discipline)
Intro to Canine Laser Acupuncture
Introduction to Equine Laser Acupuncture***
Medical Laser Therapy
(Multi-Discipline)
31st October - 1st November 2020
Medical Laser Therapy
(Multi-Discipline)
We are constantly updating our training programme, with new courses sometimes being introduced between those already planned, so do check back for new additions, or follow us on facebook or twitter.
Courses cost from £70 to £250 (inc. VAT) depending upon format, timing and relevant society membership status. Most general courses are one-day and most equine courses are two half-days.
* Courses in Gloucester are approved external courses.
** Two half days format over Friday afternoon and Saturday morning.
*** Exclusive to those who have already attended a Laser Therapy Course
Accredited Human Courses
We are delighted to continue our popular series of one-day general laser courses in association with the College of Podiatry continues, now with full accreditation. The dates and locations are listed in the Open Training Programme section above.
These courses cover all the fundamentals of laser therapy and are open to all. The case study elements is focused on lower leg examples and College members can currently attend for only £75, accredited practice members for £70, and non-members at £90 (all including VAT), making these exceptional value for money.
If you are interested in attending, then please click 'on-line booking' against the relevant date listed above or contact Debra Bartlatt-Browne at the College of Podiatry on db@scpod.org or 0207 234 8636.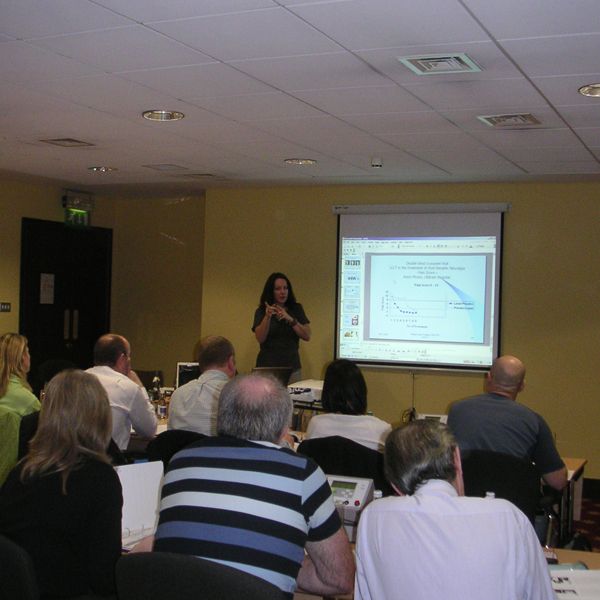 Thank you for a fabulous course - lots of learning and lots of fun too!
A very interesting course - would recommend anyone to go on the next one . Met some great people...
Thank you Omega, for a thorough and thought provoking presentation on LLLT at our Foot Health Practioner's conference with the Alliance this weekend - I'm energised :)
Equine Laser Therapy Courses
This series of courses dedicated to the use of laser therapy for horses has been particularly well received with 100% of attendees to date saying that they would recommend the course to a colleague.

The knowledge of how best to use laser therapy and adjust to suit changing circumstances through recovery has in the past been closely guarded by those whose animals gain competitive advantage from it. These courses aim to demystify the use of laser with clear explanation of the latest knowledge on physiological effects, how to treat and what sort of results to expect.
Following a concise but clear presentation of laser therapy theory and equipment familiarisation, guest speaker Janet Lloyd-Jones MBAcA MBMLA joins us to share her extensive knowledge and experience of using laser therapy in the equine field. Each course covers:
Responsibilities when treating horses
Preparation steps
Application techniques
Treatable conditions
Case histories
Treatment protocols
The courses are packed with information and following attendee feedback we moved to a format where the one day's content is spread over two half-days, covering a Friday afternoon and Saturday morning. This allows attendees a night to absorb and digest the first half day's content, perhaps over an evening meal with other attendees, before tackling the rest the next morning.

These courses are open to all, whether professionally or otherwise involved with horse health. The courses cost £199 (inc. VAT) to include refreshments, course notes and attendance certificate. To book a place, or for more information, email Omega Laser at info@omegalaser.co.uk or call on 01787-477551.
The next course in this format will be held at the British Racing School in Newmarket, which also offers accommodation from £35 per night to delegates. Further course dates and venues will be publicised here when finalised but if you are particularly interested, do feel free to call us to discuss on 01787 477551 and we can let you know where we are with our plans.