Taking Laser to the Field
Thanks in part to the many equine therapists working alongside veterinary practices, the benefits of laser phototherapy are no longer exclusive to top racing yards and competition stables which particularly value the shorter lay-off recovery times from optimised healing.
The therapy can be used in conjunction with conventional veterinary practices, or effectively alongside other complementary therapies and being drug-free it is uniquely helpful where the use of drugs are contraindicated, where an animal is drug-resistant or indeed during competition events when it remains safe, effective and legal.

Quick, painless and non-invasive, laser can achieve excellent results, particularly in pain-relief, wound healing and soft-tissue repair, both acute or chronic. In fact, the generic nature of the physiological effects, which have been extensively researched, means that laser therapy is successfully used in the treatment of a wide range of conditions including the examples below.
Laser is also able to stimulate acupuncture and trigger points without the use of needles enabling trigger point work and laser acupuncture for non-veterinary animal acupuncurists.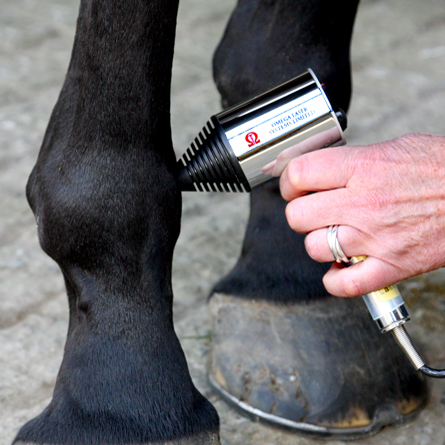 Recommended Package for Equine Therapists
What's included:
Xp Control Unit
Infra-red Laser Cluster
(5 x 820nm 200mW)
Small Multi-Wavelength Cluster
Single Infra-red Laser
(820nm 200mW)
Point-Finder Kit
(with audible indicator as required)
2 Pairs of Protective Glasses
Training
(On-site for mainland UK)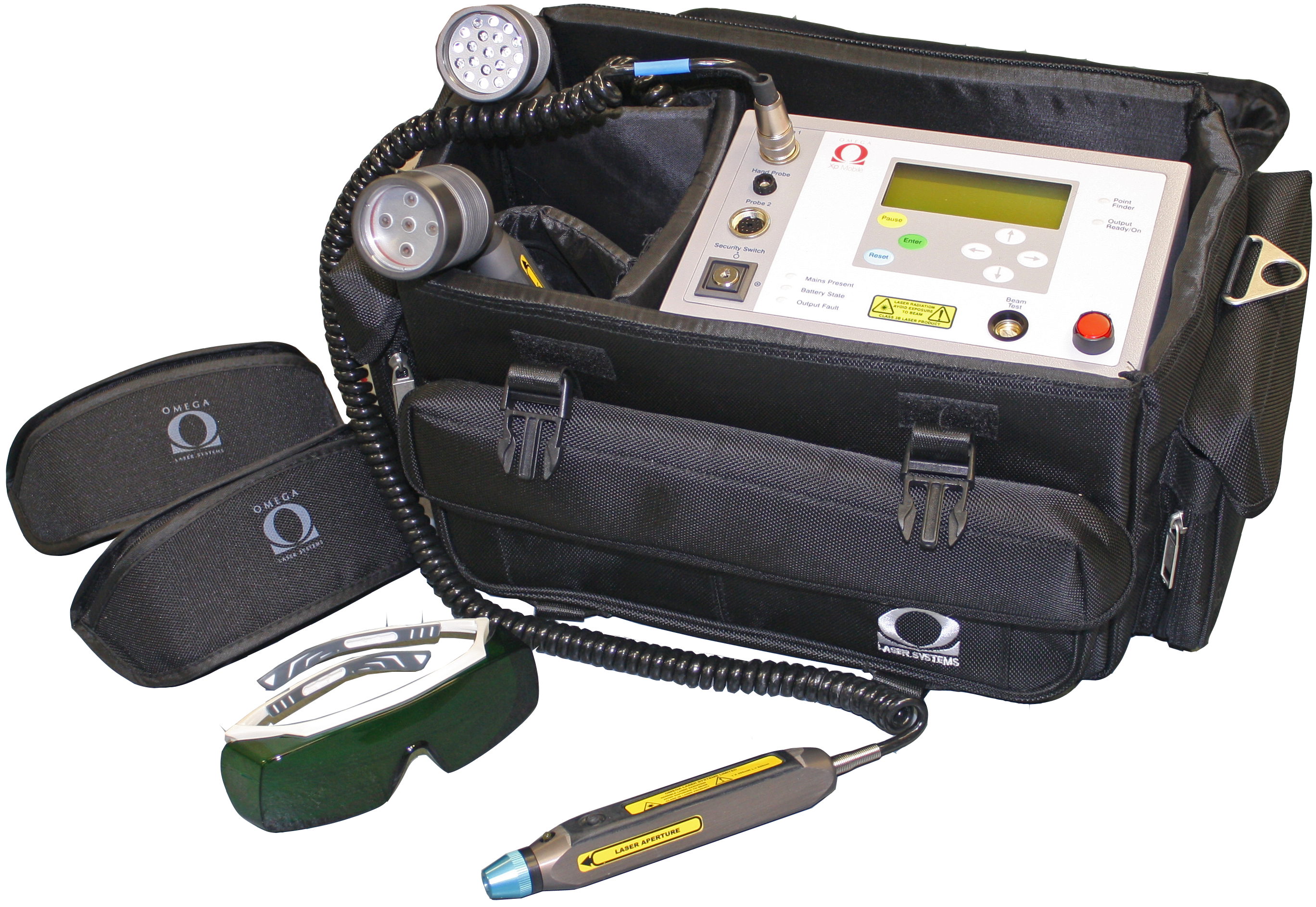 "The Omega XP mobile unit has significantly enhanced the service I can give to clients and the treatments I can offer. The unit is perfect to use in the field. I have had very good results with issues ranging from hoof abscesses, splint reduction, ligament and tendon injury, to wound repair, in which case the laser provides simply excellent results. Laser therapy is now fully incorporated in to my work as a physical therapist, as it is an excellent adjunct to chiropractic and physiotherapeutic techniques for musculoskeletal problems. I have been extremely impressed with the very thorough support and aftersales care given by Omega - very reassuring when incorporating a new electrotherapy modality."
Some Relevant Research
A study of the effects of lasering on chronic bowed tendons
...Lasering bowed tendons presents a safe and less expensive alternative to traditional treatment methods which often requires a year layoff for the horse.
Laser Acupuncture on Horses with COPD
...The results show clearly that acupuncture as a vegetative regulating therapy is outstandingly suitable in countering allergic reaction disorders. This is all the more noteworthy considering that all patients had a very long history of highly chronic illness and in all cases had been treated intensively often over a period of years...
Low Level Laser Therapy in Horses
...It was concluded that clinical application of low level laser therapy, such as contact and / or laser acupuncture technique is non-invasive and not painful for animals and effective in pain suppression and improvement of inflammatory reaction...
Laser therapy by fibroendoscopy in the mucosa of the equine upper airway
...Macroscopic and microscopic results indicated that laser treatment accelerated the cicatrization. Irradiated lesions cicatrised faster than control. These results suggests beneficial effects of low level laser irradiation therapy on equine pharyngeal ulcerative lesions.