LLLT in Osteopathy
Laser therapy offers Osteopaths the ability to treat immediately post injury reducing inflammation, spasm and pain and facilitating the earliest manual intervention. Non-invasive and drug-free it complements osteopathic practice and is well-received by patients.

It is an invaluable aid for addressing joint problems providing pain relief and improved mobility for both acute injuries and for chronic conditions such as arthritis and pain syndromes.

Whether it's rapid soft tissue repair, drug-free relief from neuralgia, or non-needle stimulation of trigger and acupuncture points that's required laser therapy equipment can provide a solution.

Usable over pins and plates unlike ultrasound, the therapy is excellent for optimising post surgical recovery promoting bone healing, minimising adhesions and maximising tissue elasticity.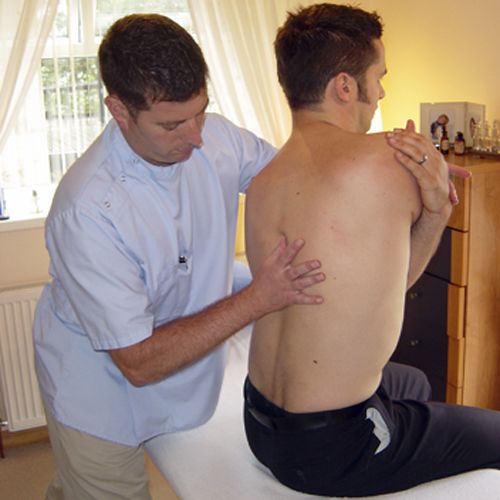 "I have been using laser therapy in my osteopathic practice for over 10 years. I find it useful for treating very acute back pain, where there is such a degree of muscular spasm that too much soft tissue manipulation or vigorous treatment could aggravate symptoms and increase pain. So laser is very useful at calming the symptoms and then the patient can return in a few days, hopefully able to tolerate more focussed, hands on, treatment...Laser therapy is very easy to administer and fits well into a normal osteopathic treatment session...The clinical support and technical back-up from Omega has been very good indeed and has assisted me in providing a good service for my patients."
Recommended Package for Osteopaths
What's included:


Xp Control Unit
(or Xp Clinic)
Infra-red Laser Cluster
(5 x 820nm 200mW)
Large Multiwavelength Cluster
Infra-red Single Laser
(820nm 200mW)
Point finder Kit
2 Pairs of Protective Glasses
Training
(on-site for mainland UK)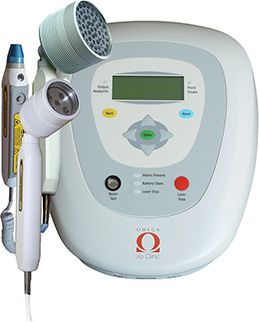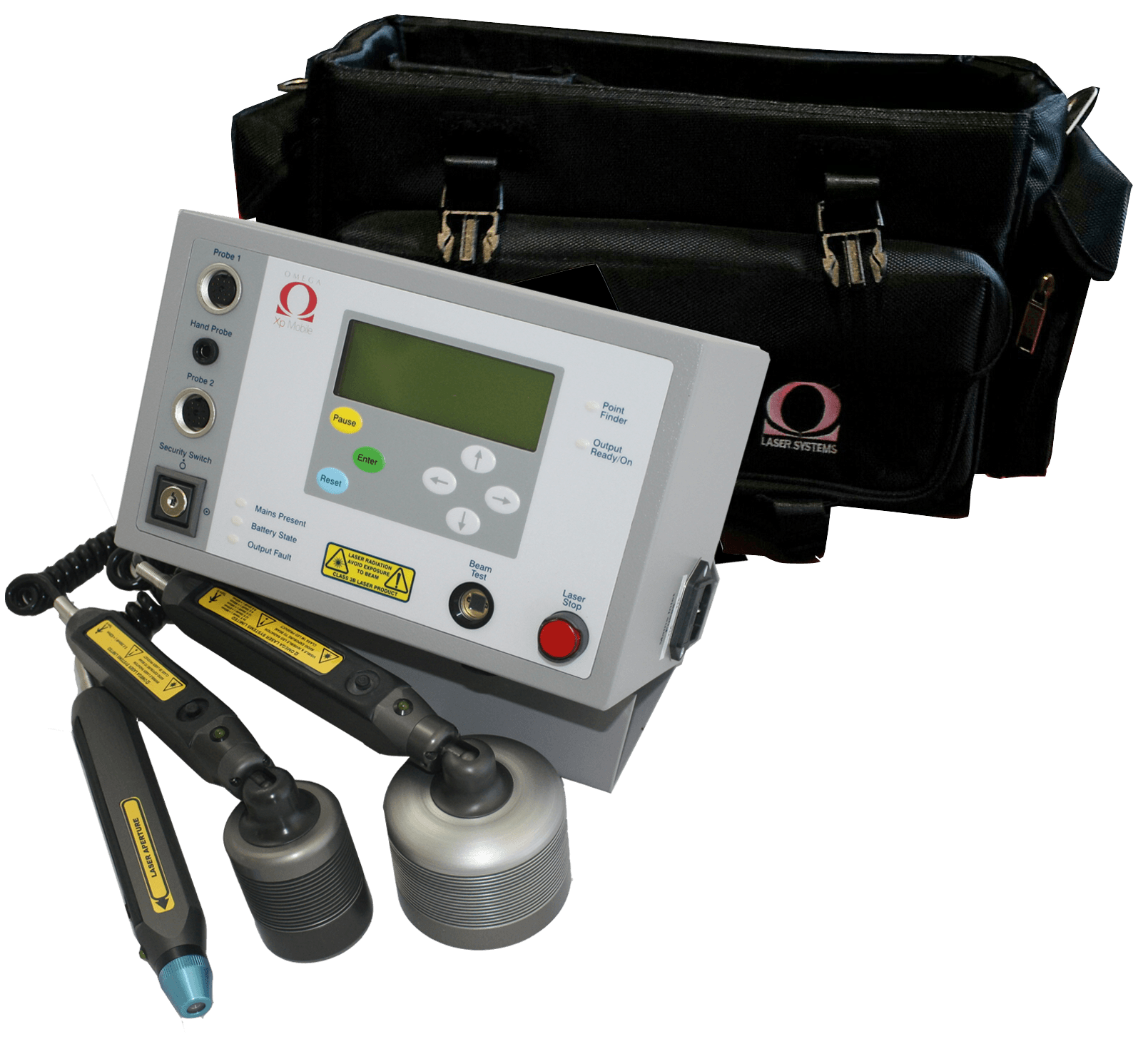 Case Study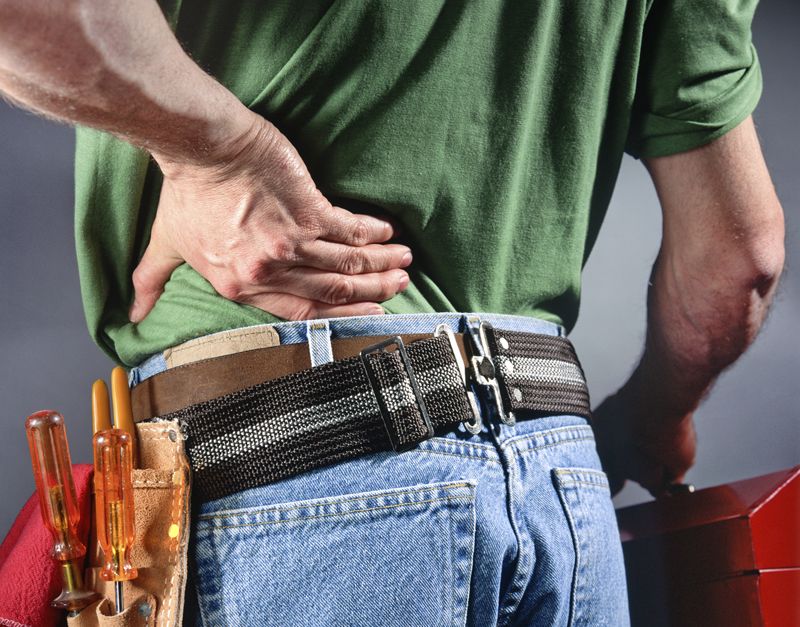 "A middle aged man came to the clinic with a very chronic low back pain after a referral from a doctor in Cypress. An MRI had revealed severe degeneration of the l5/s1 intervertebral disc. The doctor suggested a long course of low level laser therapy. I started using laser with an 820 cluster and 46 cluster at 2.5 and 146 pulsing rates, to a depth of about 2cm, After 4 sessions there was a marked improvement in active lumbar flexion and 40% decrease in pain. At 10 sessions pain was gone completely, and normal activity and exercise in the gym could be resumed. Also the normal lumbar curve (lordosis) had returned. This treatment was only low level laser, with no soft tissue treatment or osteopathic manipulation."

Paul Strange, Bsc (Hons) Ost Med DO ND - Osteopath
Some Relevant Research
Efficacy of low-level laser therapy in the management of neck pain: a systematic review and meta-analysis of randomised placebo or active-treatment controlled trials.
...LLLT reduces pain immediately after treatment in acute neck pain and up to 22 weeks after completion of treatment in patients with chronic neck pain.
Low power laser in the treatment of the acute low back pain
...CONCLUSION: The pain and spasm reduction were obtained in the greater number of patients by usage of the LPL than by usage of conservative methods of physical medicine.
The efficacy of therapeutic ultrasound for rotator cuff tendinopathy: A systematic review and meta-analysis
...Laser therapy was found superior to therapeutic Ultra Sound in terms of pain reduction...
Can intractable discogenic back pain be managed by low-level laser therapy without recourse to operative intervention?
...We conclude that LLLT is a viable option in the conservative treatment of discogenic back pain, with a positive clinical result of more than 90% efficacy, not only in the short-term but also in the long-term, with lasting benefits.
Low level light therapy modulates inflammatory mediators secreted by human annulus fibrosus cells during intervertebral disc degeneration in vitro.
...The results indicate that LLLT is a potential method of IVD treatment and provides insights into further investigation of its anti-inflammation effect on IVD.
Low-level laser therapy to treat fibromyalgia
...LLLT provided relief from fibromyalgia symptoms in patients and should be further investigated as a therapeutic tool for management in fibromyalgia.
Contact us
Contact Omega to discuss the most appropriate system to tackle the conditions you require to treat in your practice.
Call +44 (0) 1787 477551 or email info@omegalaser.co.uk