How Laser Therapy Helps
Drug-free and non-invasive, Laser phototherapy fits well with the chiropractic ethos. It both complements and helps consolidate chiropractic work whilst also adding extra strings to the Chiropractor's bow.
Using Laser offers the ability to deal with issues such as inflammation that would normally delay or prevent the chiropractic treatment being optimally effective and it provides an adjunctive analgesic treatment option particularly useful when somebody is in too much pain to be adjusted.
Chiropractors also report finding it quicker than massage for achieving soft tissue release and that they are therefore able to provide a whole-body treatment in less time by incorporating laser therapy. And beneficially, they find improved 'take' after adjustment when laser has been used.
It is especially well received by clients, who often remark on increased functionality and RoM after treatment, and it is easily integrated into chiropractic practice.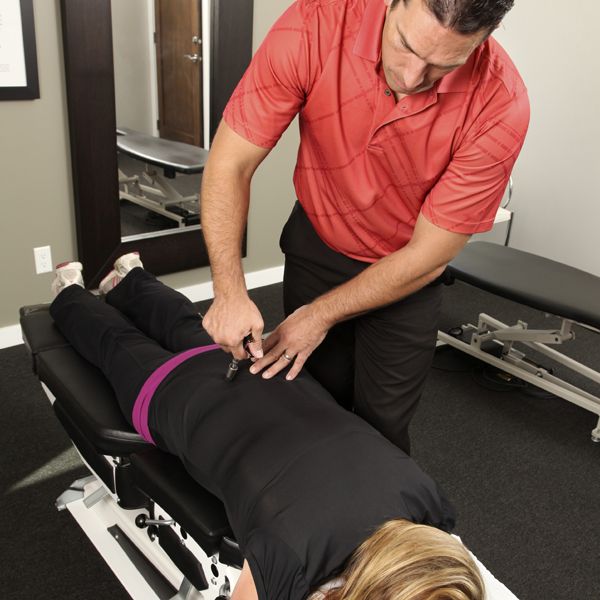 Recommended Package for Chiropractors
"I have been using the Omega Clinic Laser System since 2008. It delivers stunning results for a variety of conditions i.e. trigger point therapy for pain, disc problems, arthritis (especially great for knees) and post op care for hip and knee surgery. I have great confidence in the Omega Laser System and recommend it whole heartedly as an adjunct to adjusting care in any office."
Some Relevant Research
Low power laser in the treatment of the acute low back pain
...CONCLUSION: The pain and spasm reduction were obtained in the greater number of patients by usage of the LPL than by usage of conservative methods of physical medicine.
Short-term efficacy of physical interventions in osteoarthritic knee pain. A systematic review and meta-analysis of randomised placebo-controlled trials
...Conclusion: TENS, EA and LLLT administered with optimal doses in an intensive 2–4 week treatment regimen, seem to offer clinically relevant short-term pain relief for OAK.
Efficacy of low-level laser therapy in the management of neck pain: a systematic review and meta-analysis of randomised placebo or active-treatment controlled trials
...We show that LLLT reduces pain immediately after treatment in acute neck pain and up to 22 weeks after completion of treatment in patients with chronic neck pain.
Can intractable discogenic back pain be managed by low-level laser therapy without recourse to operative intervention?
...We conclude that LLLT is a viable option in the conservative treatment of discogenic back pain, with a positive clinical result of more than 90% efficacy, not only in the short-term but also in the long-term, with lasting benefits.
Effect of low-level laser therapy on the modulation of the mitochondrial activity of macrophages
...These results show that 660 nm and 780 nm LLLT can modulate the cellular activation status of macrophages in inflammation, highlighting the importance of this resource and of the correct determination of its parameters in the repair process of skeletal muscle.
Effect of laser therapy on skeletal muscle repair process in diabetic rats
...LLLT can have a positive effect on the morphology of skeletal muscle during the tissue repair process by enhancing the reorganization of myofibers and the perimysium, reducing fibrosis.
Contact us
Contact Omega to discuss the most appropriate system to tackle the conditions you require to treat in your practice.
Call +44 (0) 1787 477551 or email info@omegalaser.co.uk