How Laser Therapy Helps
The investigation of laser phototherapy as a potential modality to improve or effect nerve repair is building a body of research which demonstrates a favourable prognosis in the regeneration of peripheral nerves in both neurosensory and neuromotor deficits. Current nerve repair treatment focuses on trigeminal neuralgia, neuropathy, low back pain with sciatica, herpes zoster and Bell's Palsy.
Appropriate low level laser irradiation produces both local and systemic effects that have been shown to enhance the nerve regeneration process. It results in increased functional activity of the injured peripheral nerve, prevents or decreases degeneration in corresponding motor neurons of the spinal cord, and improves the axonal growth and myelinisation.
As a non-invasive and painless therapeutic treatment that can be used for almost any type of patient, including those who cannot use corticosteroids, such as diabetic and hypertensive patients, it has clear potential in this field.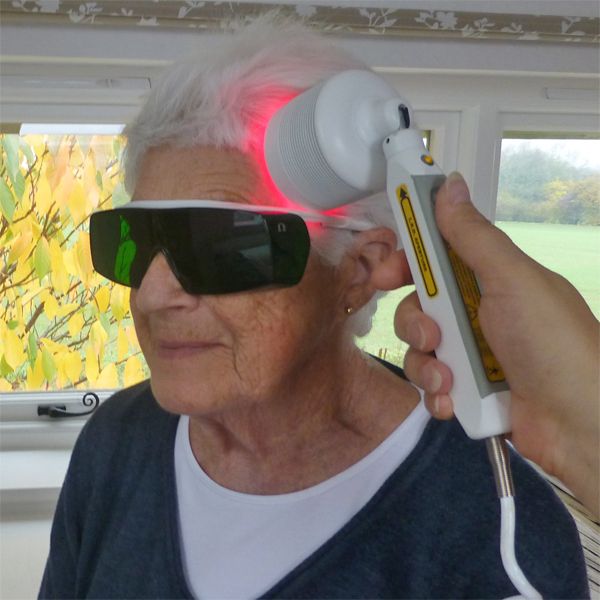 Nerve-related conditions treatable with Low Level Laser Therapy
"I was called out to a lady in her mid thirties with Bells Palsy - a temporary paralysis of the facial muscles involving the seventh cranial nerve. I used low level laser with an 820 cluster probe at a medium pulsing rate at 20 secs per point, over the painful paralysed areas. Within one day the symptoms had reduced significantly, and within 2 days there was virtually no trace of paralysis. This result was achieved with one treatment only."
Relevant Research
Phototherapy in peripheral nerve regeneration: From basic science to clinical study
...Laser activation of nerve cells, their growth, and axonal sprouting can be considered as potential treatment of neuronal injury. Animal and clinical studies show the promoting action of phototherapy on peripheral nerve regeneration...
Efficacy of high and low level laser therapy in the treatment of Bell's palsy: A randomized double blind placebo-controlled trial
...The result showed that both HILT and LLLT significantly improved the recovery of patients with Bell's palsy...
Benefits of laser phototherapy on nerve repair
...All the early in vivo studies assessed in this research were effective in restoring sensitivity. Although these results indicate a potential benefit of the use of lasers on nerve repair, further double-blind controlled clinical trials should be conducted in order to standardize protocols for clinical application...
Light Promotes Regeneration and Functional Recovery and Alters the Immune Response After Spinal Cord Injury
...results demonstrate that light, delivered transcutaneously, improves recovery after injury and suggests that light will be a useful treatment for human Spinal Cord Injury...
Low-level laser effect in patients with neurosensory impairment of mandibular nerve after sagittal split ramus osteotomy. Randomized clinical trial, controlled by placebo
...Conclusions: Low-level laser therapy was beneficial for this group of patients on recovery of neurosensory impairment of mandibular nerve, compared to a placebo...
A Double Blind Crossover Trial of Low Level Laser Therapy in the Treatment of Post Herpetic Neuralgia
...The results demonstrate a significant reduction in both pain intensity and distribution following a course of low level laser therapy...
Contact us
Contact Omega to discuss the most appropriate system to tackle the conditions you require to treat in your practice.
Call +44 (0) 1787 477551 or email info@omegalaser.co.uk